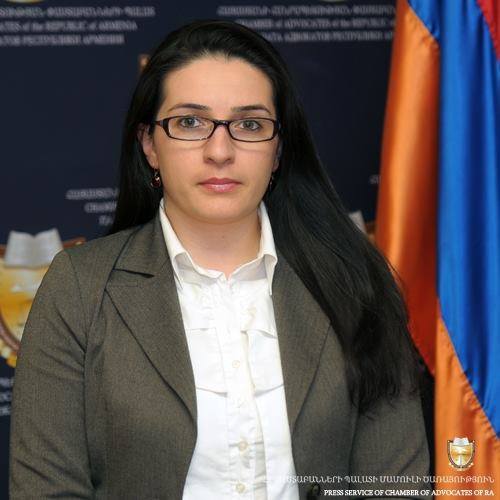 Board member
Education: Tatevik Matinyan graduated from "Mkhitar–Gosh" Armenian-Russian International University (Department of jurisprudence) with Honorary Distinction in 2005, got a master degree from "Mkhitar–Gosh" in 2012. Within the frames of Undergraduate Exchange Program conducted by IREX and founded by the US State Department she studied in University of Nebraska at Kearney, College of Science and Art, USA in the Field of Studies Criminal Justice (2003-2004).
Professional experience: Tatevik Matinyan has significant experience in the field of democratic governance and human rights. She has started her career volunteering with "World Learning" NGO Strengthening Program Vanadzor Office back in 2002. Between 2005 and 2019, she worked with a number of Non-Governmental Organizations and Civil Society Organizations such as "Legal Clinic" in "Mkhitar Gosh" Armenian-Russian International University, coordinating operations of the clinic, establishing "Youth Center for Democratic Initiatives" NGO (www.democracy.am) and as a chairperson managing over 7 projects within 4 years, "Center for Strategic Litigations" NGO, managing 3 human rights projects, "Helsinki Citizens' Assembly Vanadzor Office (www.hcav.am), managing 8 projects and supervising 18 staff and 4 branches as a head of legal division, "International and Comparative Law Centre" NGO, working in close collaboration with the RA Ministry of Defense on the project of development of tools and methodology for monitoring the process of identification of forced labor practices in the RA Ministry of Defense and "ELL Partnership" Law Firm (www.ell.am) as head of Public Administration Practice, expertizing for 2 large-scale projects entitled "The Justice Monitoring Project" and "Support to improve the bankruptcy system in Armenia". Since 2010 she is a member of the Chamber of Advocates of the Republic of Armenia.
Since 2020 she is a freelance expert with concentration of human right and evidence based policy development conducting thematic researches, drafting court applications both on national in international levels (in particular ECtHR), conducting court representation and legal protection, drafting laws, writing peer reviews, developing analytical and comparative researches, conducting seminars and trainings.
Tatevik Matinyan authored and co-authored over 20 books, analytical reports and manuals in the field of criminal law, human rights, constitutional law, evidence based policy development, monitoring findings and etc.
Tatevik has participated in several professional trainings and conferences in France, Poland, Germany, Georgia, Moldova, USA.
Languages: Armenian, English, Russian