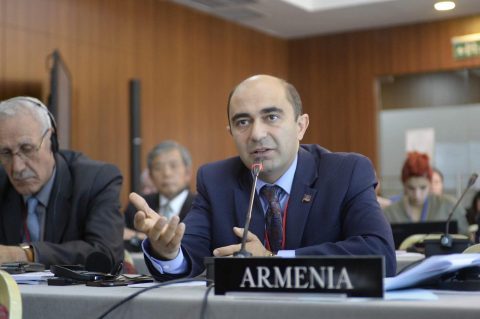 Today, the founding president of CSL NGO Edmon Marukyan made an update on his Facebook page informing that he took part in a closed discussion on the Nagorno Karabakh conflict organized by one of the Austrian think tanks in Vienna.
Armenian side was represented by Edmon Marukyan and two members of Republican party Armen Ashotyan and Karen Avagyan. From the Azerbaijani side, three deputies were present as well as representatives of the Azerbaijani Analytical Center. At the meanwhile, representatives of the OSCE, EU, ambassadors, representatives of the Austrian Ministry of Defense, the Ministry of Foreign Affairs and academic circles also took part in the discussion.
The discussion took place according to the rules of "Chatham House",  that is why, it was impossible to provide with more details. However, Marukyan underlined that the views of the Armenian side were fully presented by the representatives, defended, as well as adequate response was given to the arguments of the other side.
Marukyan stressed that in the entire world wherever it is possible, the approaches arising from our national state interests should be defended. Regardless of the current military situation, the Armenian diplomatic, analytical, intellectual potential is competitive and efficient.
Summing up, Edmon Marukyan said that he will use all the international platforms available to us to advance our interests.