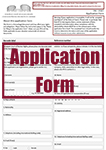 The application form should be downloaded, completed, printed out and sent by post to the Court with the necessary documents. No other form must be used.
The form will work correctly only with Adobe Reader 9 upwards and is only supported under the Windows and Mac OS X operating systems. Please ensure you have Adobe Reader installed on your computer (download available from www.adobe.com).
1. Save a copy of the form
Right-click on the link or icon above
According to your browser, choose one of available options "Save target as", "Save Link As" or "Download Linked File As…"
Save the form on your computer in a chosen location.
2. Fill in the form
Open the saved copy of the form in Adobe Reader from the chosen location
Fill in the form and save it.
Once you have completed the form, you should print it, sign it and post it to the Court.