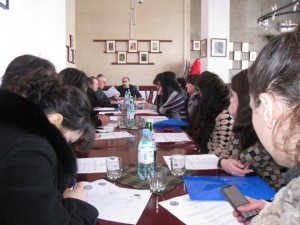 From February 4-5, 2012 "Center for Strategic Litigations" HR NGO conducted a two-day training entitled "European Convention for the Protection of Human Rights and Fundamental Freedoms: articles 7, 8 and 9 and the additional protocols of the Convention". The training was organized for advocates, practicing lawyers and Law students of Lori region, within the framework of "Supporting Human Rights Cases through Legal Education" project, supported by the US Embassy Public Affairs Section and the USAAA.
The training included vivid examples from real cases regarding the articles of the Convention that provide legal punishment for the violation of the right to respect for one's private and family life, his home and his correspondence, right to freedom of thought, conscience and religion, also all the rights that as additional protocols supplement the Convention.
The training discussed all the possible methods for applying to European Court for the cases that are under proceeding.
The advocates also suggested discussing the recent changes in the Law on Advocacy in Armenia.
In the end of the training the participants completed evaluation forms that show the productivity of the training.