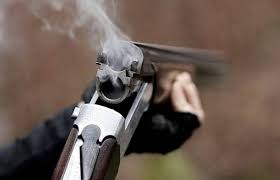 On 1 July 2009 criminal proceedings were instituted on account of the murder of K.S. who was shot dead at 1.30 a.m. that day in a street in Alaverdi. On the same date the Spartak Manucharyan appeared before the Alaverdi Police unit, surrendered a gun and confessed to the murder. On the same date he was charged with murder and illegal possession of firearms. Two days later Manucharyan was questioned by the investigator. He did not admit his involvement in K.S.'s murder and refused to testify.
In the course of the investigation the sole eye-witness, K.M., who was K.S.'s girlfriend and had been present at the scene of the murder, testified that it had been the applicant who, after yelling and swearing, had started to shoot at K.S.'s car.
It appears that during the pre-trial investigation no confrontation was held between the applicant and K.M.
It appears that the Regional Court held hearings in the absence of witness K.M.
On 4 November 2010 the Regional Court found the applicant guilty as charged and sentenced him to thirteen years' imprisonment. In doing so, it mainly relied on the pre-trial statements of witness K.M.
Thus on May 31, 2011 the lawyer of CSL HR ENGO Edmon Marukyan after exhausting all domestic remedies resented the case to the ECtHR stating that a violation of Article 6 § 3 (d) of the Convention has taken place as the prosecution witness K.M. was not examined at the trial.
The case was communicated on July 11, 2013 and questions were sent to the Government of the RA.
https://hudoc.echr.coe.int/eng#{%22docname%22:[%22\%22MANUCHARYAN%20v.%20ARMENIA\%22%22],%22documentcollectionid2%22:[%22COMMUNICATEDCASES%22],%22itemid%22:[%22001-123743%22]}