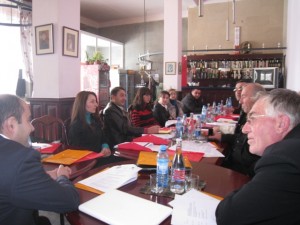 On November 26-27, 2011 "Center for Strategic Litigations" HR NGO conducted a two-day training entitled "Human Rights Protection within the framework of Council of Europe and the European Court of Human Rights". The training was organized for advocates, practicing lawyers and Law students of Lori region, within the framework of "Supporting Human Rights Cases through Legal Education" project, supported by the US EmbassyPublic Affairs Section and the USAAA.
The aim of the training was enriching the skills of advocates and the lawyers regarding European Court of Human Rights and to the Convention for the Protection of Human Rights and Fundamental Freedoms. 24 advocates and lawyers had a chance to share their experience and obtain new knowledge regarding European mechanisms of human rights protection through having discussions about concrete cases.
During the training a movie illustrating the European Court of Human Rights was presented. Within the frames of the project the specialists of the organization will provide with practical assistance to advocates for preparing the cases litigated in national courts in order to submit to the European Court of Human Rights.